Feel Great About Your Guitar Playing
Are you feeling stuck and making slow progress on the guitar?
Have you been playing for years but still struggle?  
Are you frustrated trying to learn on your own?  
In Response to the COVID-19 Pandemic
We are offering online lessons via Zoom.  Complementary Trial Lessons offered to qualified prospective students.  Click the "tell us more about you" button below to inquire.
There are also tons of free guitar-related resources here and instructional articles at the very bottom of this page.
It can be a real source of frustration when you realize that months or even years are going by, and you are not substantially better at guitar than you were before.  Perhaps you try to look at YouTube videos, or read books, or learn from friends, but none of these really help in the end.  What makes it even worse is that you put in all this time practicing and you're still not seeing improvement and you're not enjoying the process.
Well, I'm here to tell you, I know how you feel.   I have felt the same way many times in my guitar-playing life, and most students who come to me for lessons feel the same way at first.  I have helped hundreds of students overcome these frustrations and make real progress quickly while enjoying the process of learning.
Fortunately, there is an easy way to start feeling great about playing guitar… 
I have innovative and creative, proven strategies and techniques for helping my students have a blast and get better quickly, and I have helped hundreds of students make great music in my 18+ years of teaching.  These are not cookie-cutter lessons.  Many guitar teachers view their position as a job.  I see myself as a teacher, trainer, coach, and mentor.
Click the button below to tell us more about yourself or call Dennis at 607-222-3166 to schedule your free trial lesson:
I am a member of the "Elite Guitar Teachers Inner Circle" (an international group of professional guitar teachers from all over the world who share information and research, and critique and support each others' ideas.)  With this membership, I am continually improving my teaching skills and I get ongoing training and mentorship on how to be an effective guitar teacher, and I am the only teacher in the Ithaca, NY area who has 24-hour access to this type of advanced training and support.
A customized lesson strategy so that you can play the music you really want to play, the way you want to play it.  Most teachers simply "wing" teaching guitar lessons.  You get a detailed plan which gets refined routinely, so you always know what and how to practice.  You also get an organized, easy to use way to track your progress from week to week, month to month, and year to year!
Great confidence so that you can play with anyone, any time, anywhere.  This is what making music is all about, and I show you how to get there, not just through teaching, but with lots of training.  With extensive training, you'll never go home from a lesson and ask, "Now, what was I supposed to practice, again?"
Totally innovative and creative ways to help you improve quickly and enjoy the process of learning.  I won't get into detail here, but I have a whole slew of ways to help you keep your motivation and enjoy the process of learning.
A sense of community.  We won't go into detail here, but there are lots of ways in which students can connect, network, share, grow, and get inspired from each other.
Opportunities to record and perform.  Not every student wants to perform or record, but for those who do, there are plenty of opportunities I create for them.
What kind of rates do you charge?
There are multiple packages available for different types of students.  Price is an important component when making a decision on whether to study with a certain teacher (email me for a copy of the article "How to Choose a Guitar Teacher".)  And in addition to price, there  are many other factors to consider such as how much fun the lessons are, how much the teacher motivates you to practice, how flexible the scheduling is, and most importantly, are you getting results.  Even if you had a teacher who was half the rate and didn't get you moving forward and having fun, you would actually spend way more money in the long run by having to start over with someone else later.
What if I have a crazy work schedule that interferes with my time available for lessons?
There are several ways we offer completely scheduling flexibility.  Without getting into detail here, you can manage your own lesson schedule with complete ease and convenience.
What is your location?
We won't post that here for internet security reasons, but keep in mind that distance is only one factor.  If a teacher can save you huge amounts of time at home from practicing inefficiently, then even if that teacher is further away, you still save lots of time every single week.
If I sign up for a free lesson, will there be any expectations about becoming a student or high-pressure tactics during the free lesson?
No.  The free lesson is simply a chance for us to explore where you are at, where you want to go, and whether or not we are a good match for each other as student/ teacher.
What if I decide to try and learn on my own?
Whatever you decide is perfectly fine, but ask yourself "How have I tried to learn on my own already and why hasn't it worked for me?" and "How much time and energy could I save by being shown from a seasoned pro exactly what to do, how to do it, and what order to do it in?"
Here's What Students Are Saying:

Much more value than meets the eye:
As a student, you get way more than average guitar lessons.   This is a tall claim but we have no problem making it simply because the students get results.  As a student, you get:
personalized support for how to practice the lesson content for the week. It's never just "here's your lesson, have a good week." More details about this is done is shared in the free intro guitar lesson.
a wide variety of free bonus items that are used to reward you for milestones you hit, or simply to assist you in learning even when you're not in lessons.  These come in many shapes and sizes, and are explained more in the free intro session.
access to a huge library of supplemental material that can be used to reinforce what you did in the lesson or simply save lots of time in the lesson.  Students very rarely have to wait around while the teacher writes things out. This of course also saves you money because we rarely require books to be purchased since we have all the materials you need.
content that is relevant to your goals.  We've covered this before, but it's worth re-stating here, because too many guitar lessons are the same for everyone.  "Here, buy this book and we'll go through it a few pages at a time."  Guess what happens after 6 months or a year?  Yes, you finish the book, but do you really have a grasp on how to play your favorite songs, how to write your own songs or jam with other people?  I cannot tell you how many students have come to me after years of lessons elsewhere and can't play a simple song with me on the fly.
teacher(s) who are trained and who undergo CANEI – continous and never-ending improvement.  How many other teachers in Ithaca can say that they genuinely work on becoming better teachers continuous?
innovative teaching methods.   We use a geometric teaching method, which will be explained in the free intro session.  For now, let it suffice to say it simply gets you way faster results and is much more fun than the traditional method.
 tools with which you can easily track your progress.  The longer you take lessons, the harder it can sometime become to recognize progress.  All of our students know exactly what they've accomplished on a regular basis by using our Practice Tracker.
 fun.  There are so many horror stories of people who lost all enthusiasm for learning because of unsupportive/ unfocused/ negative teachers.  Yet, there are so many ways, as you will see, to have a blast and rapidly improve at the same time!
Explore whether going further is right for you:
There is no obligation to sign up for lessons, so you have nothing to lose!  And, you are guaranteed to learn something that will help your guitar playing even if either of us decides that becoming a student is not the best option.
Call Dennis at 607-222-3166
to schedule your free trial lesson or
click the button here to tell us more about yourself: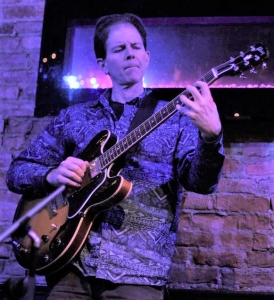 Dennis Winge, head teacher
pro guitarist and teacher since the year 2000